If the Android hotspot turns off automatically and you are thinking why does your hotspot keep turning off automatically, here is the answer you should know about. The default setting on some mobile disables the mobile hotspot when no device is connected for a specific amount of time. However, if you want to get rid of this issue, here is what you will have to do.
Let's assume that you obtain an internet connection from your mobile via mobile hotspot. When you are connected to the mobile hotspot, it works without any error. However, if you are disconnected from the mobile hotspot and no device is connected for a long time to the mobile hotspot, the personal hotspot turns off automatically.
Mobile manufacturers do that to save the battery life of your mobile. When your phone is broadcasting an internet connection, it is consuming a lot more battery than usual. Therefore, to save the battery health, it turns off the WiFi hotspot.
Now, let's think that you do not want to disable the personal hotspot on your mobile. Many people often use a particular mobile for hotspots. If you are one of them, who wants to connect to the hotspot automatically whenever he/she reaches home, here is a solution for you.
For your information, we have shown the steps on a Google Pixel mobile. However, the same thing happens with some Samsung as well as Mi, and OnePlus mobiles as well. Therefore, you can follow the same steps to get the job done on other mobiles.
Android hotspot turns off automatically
To fix Android hotspot turns off automatically issue, follow these steps-
Open the Settings app on your mobile.
Go to Network & internet. 
Tap on Hotspot & tethering option.
Select the Wi-Fi hotspot option on your screen.
Tap on the Advanced button.
Toggle the Turn off hotspot automatically button.

After doing this, your personal hotspot won't go off after a few seconds.
Even after doing all these aforementioned steps, if you are getting the same issue, do the following-
Disable battery saver
Disable Wi-Fi
Disable Mobile Hotspot timeout setting
Restart your phone
Solution #2: Disable Battery Saver
Battery saver comes with almost all mobiles and if it is turned on, there might be some issues related to the mobile hotspot. The mobile hotspot and battery saver stay on opposite sides or they don't go together. Therefore, if the battery saver is enabled, disable it. For that, you can expand the status bar and find out the Battery saver icon.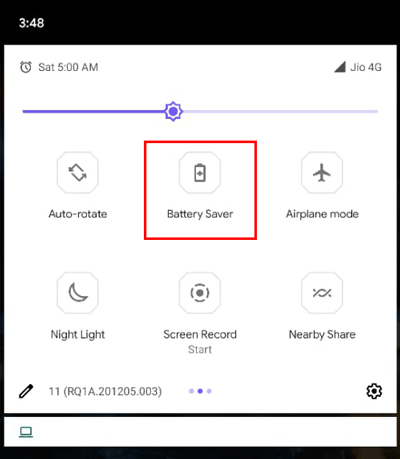 Toggle the button to disable battery saver on Android mobile. If you do not see this icon, open the Settings app, and go to the Battery section. Here you will get the option named Battery Saver.
Open this setting and disable it accordingly.
Solution #3: Disable Wi-Fi
If you have enabled Wi-Fi on your mobile, the Wi-Fi hotspot or mobile hotspot won't work simultaneously. Therefore, it is recommended to disable the Wi-Fi connection facility first, then try to enable a personal hotspot.
Solution #4: Disable Mobile Hotspot timeout setting
Although this option is not available on all mobiles, some Samsung users can see it while setting up the hotspot functionality. Samsung allows users to set a time limit and it helps people to give internet connection to someone for a specific amount of time.
If the Mobile Hotspot timeout setting is set to 5 minutes, 10 minutes, or something like that, your hotspot won't be staying on post that time limit. The solution is simple – you will have to select Never timeout in the Timeout settings.
Solution #5: Restart your phone
A restart solves countless problems. If this problem started occurring recently, it is better to restart your mobile before trying out some heavy solutions. If there is an internal file error and this problem is appearing because of that, a simple restart might resolve the issue almost instantly.
That's all! These are some of the working solutions you can get help from. However, if the problem persists, it is better to head to the service center.