If you are wondering whether it is possible to download Google Docs for Windows 10 or not, you should keep reading this article. Yes, you can download Google Docs for PC so that you can access all the files offline or without internet connection. We have consolidated every possible thing in this article so that you can learn how to use Google Docs app on Windows 10 without any problem.
Google Docs is a non-independent web tool that counts on Google Drive as a destination to store all files. That said, you can create, edit, save, and access all the Google Docs documents by signing into your Google Drive storage, and it is how does Google Docs work. However, it doesn't imply that you cannot access Google Docs autonomously on your PC or mobile. We have enlisted some steps to elaborate on how you can download Google Docs for Windows PC, and you should be following them one after one.
Before getting started with the steps, you should know that you need to download Google Drive to your PC or mobile in order to use Google Docs. In fact, Google Docs comes as a bundle with Google Drive for Windows and Mac computers.
How to download Google Docs for Windows 10
To download Google Docs for Windows 10 to use offline, follow these steps:
Visit the official website of Google Drive.
Click the Download button under Personal to download the app.
Install the file on your PC.
Once installed, double-click on Google Docs icon.
It will download Google Docs for Windows 10 for offline usage.
Now create or open a document in Google Docs.
If you want to know about the steps in an elongated version, keep reading.
At first, you need to visit the official website of Google Drive so that you can download the app to your computer. However, if you are using an Android or iOS mobile, you need to open the respective app store and download the app. The interesting thing is that you do not need to download the Google Drive as you do for Windows and Mac. You can download the Google Docs app.
Official website:
https://www.google.com/drive/download/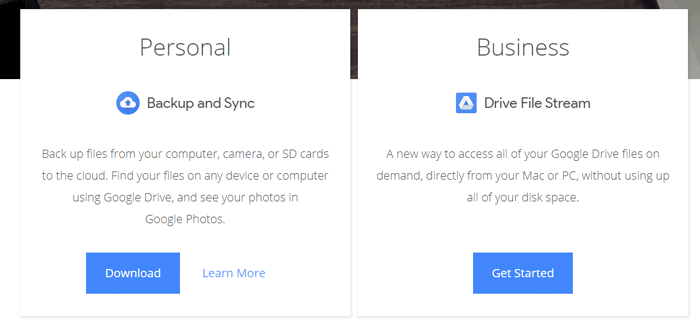 Now, you need can see a .exe file in your Downloads folder. Double-click on it and follow all the screen instructions to walk through the installation process. It doesn't take a very long time, but it depends on the hardware configuration you are using. Once the installation is completed, you can find several new icons on your Desktop depending upon how you installed the app. In case, you cannot find the Google Docs icon on your Desktop; you can search for it in the Start Menu. After opening the corresponding app on your computer, you can edit, create, and access existing documents.
Just like Google Docs, it is possible to download Google Sheets app for Windows 10. The process is the same. Also, setting up a Google Docs account doesn't take much longer. If you are doing it for the very first time, it may show some popup notifications to get started with it. However, existing users do not get any such information while open Google Docs on Windows 10.
Does Google Docs work offline?
Although an internet connection requires to upload and synchronize documents across multiple devices, Google Docs works offline. It is possible to set up and use Google Docs offline when internet connection is out. Sometimes you might not get an internet connection while editing a document. At such a moment, you can keep using the same functionalities of Google Docs if you enable offline synchronization. There are several ways to perform this, and some of the methods are mentioned below.
Method #1: Enable offline usage in Google Docs
It is possible to enable the offline usage of Google Docs on the official website. For that, go to docs.google.com, and click the hamburger menu on the top-left corner. From here, click the "Settings" button. On the Settings panel, toggle the "Offline" button and click the OK button, respectively.
Method #2: Download Chrome extension to use Google Docs offline
There is a Google Chrome extension, which lets you open and use Google Docs on your PC. If you turn on the offline mode after installing the extension in the browser, you would be able to use all the documents without an internet connection. However, you need to enable the functionality manually, as mentioned earlier.
Download Google Docs extension:
https://chrome.google.com/webstore/detail/docs/aohghmighlieiainnegkcijnfilokake
If you thinking – does Google Docs work offline – or something like that, these were the answers.
If you are thinking to download Google Docs for Windows 10 to use offline or synchronize files when having internet connection, this is how you can do that. Obviously, you need to spend some disk space to get the job done, but it is worth it.
On a different note, if you are having some internet connection related issues and you cannot upload or synchronize files across multiple devices, you can open and run Windows 10 troubleshooters to fix common problems.