If you want to use Grammarly while writing a project in Microsoft Word, you can download, install, and add Grammarly to Word on Mac using this tutorial. Grammarly is a grammar checker service and app, allowing users to rectify their mistakes in an English paragraph. Therefore, if you want to write error-free grammar in Word for Mac, you can try Grammarly for desktop on Mac.
Microsoft Word is one of the best text processing applications you can use on your Mac computer to get the job done as fast as possible. Whether you want to write your semester project or annual report at your office, Word does everything smoothly. Nobody, including your instructor, professor, etc., likes to read grammatical errors in a small or big paragraph. In other words, you must write mistake-free English whether it is for school, college, or office.
To rescue you from those awkward clumsy situations, Grammarly is there. No matter whether you need Grammarly Word add-in on Mac or desktop, you can download both within moments. On the other hand, users can enable Grammarly for Gmail by installing Chrome extension. The best thing is that you do not need a Premium subscription to install Grammarly for Word on Mac – it helps to make your writing better, though. In other terms, a free account holder can do everything as a paid account holder.
For your information, it is required to download Grammarly Word add on for Mac to use Grammarly in Word. As it is available for free, you do not have to worry about purchasing or spending money on it.
How to add Grammarly to Word on Mac
To add Grammarly to Word on Mac, follow these steps:
Open Microsoft Word on Mac.
Go to Insert > Get Add-ins to install Grammarly add in.
Search for Grammarly and click the Add button.
Click the Continue button to continue installation.
Click the LOG IN TO GRAMMARLY button to sign in to your account.
Write your paragraph and click the Open Grammarly button.
Find and rectify grammatical mistakes.
To get started, open Microsoft Word on Mac computer, and go to Insert > Get Add-ins to install Grammarly add-in in Word.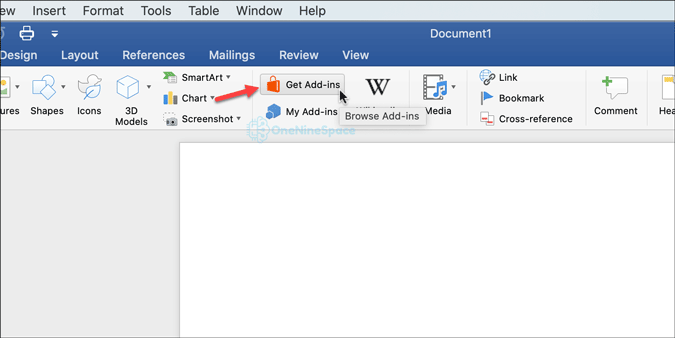 It opens a window where you can search for Grammarly. Do that and click on the respective Add button.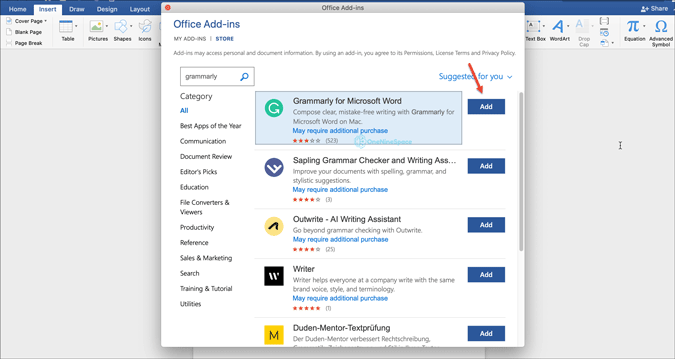 It shows a popup window to ask you to agree with teams and conditions. Once you are done with reading, click the Continue button.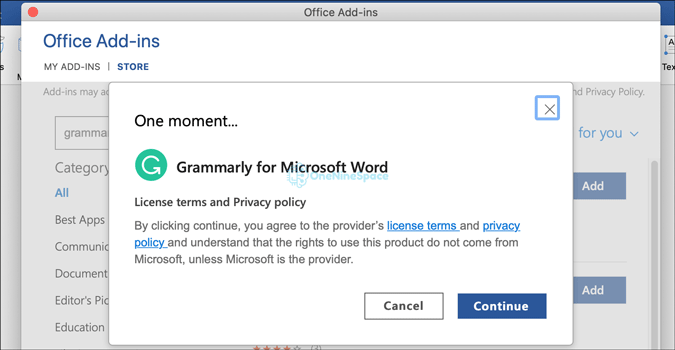 After finishing the installation of Grammarly Word add-in on Mac, you need to sign in to your account. You can click the LOG IN TO GRAMAMRLY button on your right-hand side, and enter your credentials to get started.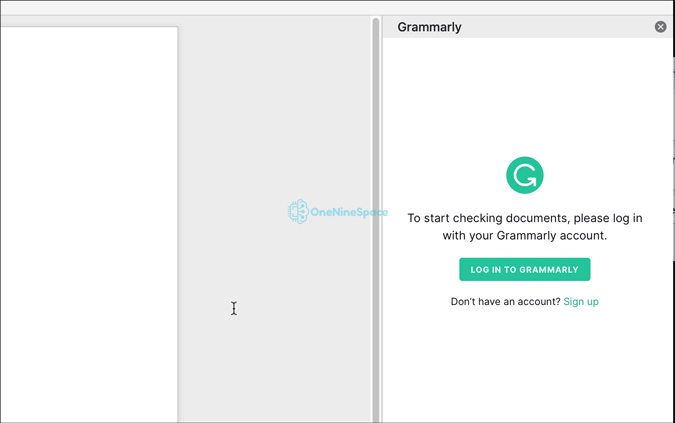 Once done, you can see a Grammarly section on your right side. In case you do not see it, switching to the Grammarly tab does the same thing. As you start writing, Grammarly starts scanning your text to show you all the mistakes you have done in your paragraphs. Therefore, if you make any mistake, you can find it on the right-hand side, in the Grammarly section.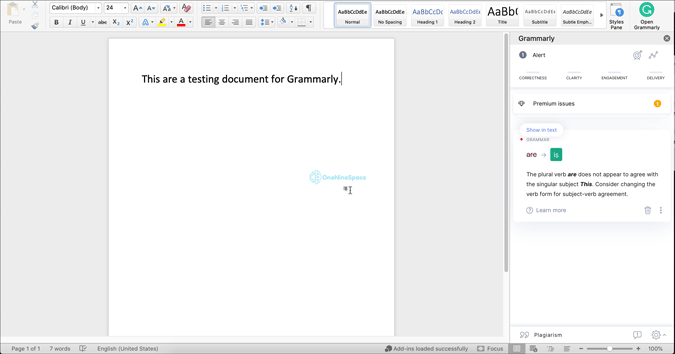 Click on each rectified text or word to get more information and get rid of the error you have made.
However, if you want, you can download Grammarly desktop app for Mac as well. For that, you do not need any individual Grammarly add-in for Excel, Word, or Pages.