If you want to enable dark mode on Facebook website, this article will be handy for you. As Facebook rolled out this functionality, you do not have to install a third-party software, browser add-on or opt for a third-party service as well. Unfortunately, dark mode in not available on Facebook mobile app for Android and iOS.
Facebook is one of the biggest social network websites with more than 1 billion users from around the world. This website has a abundant amount of features and options for the users. Recently, Facebook rolled out a new look for the web version users and now they allow you to turn on dark mode so that you can keep using the website without getting an eye strain.
As mentioned earlier, it is not mandatory to enable a browser add-on since you can enable this functionality across all the browsers as long as you use the web version. The good thing about this option is that the new Facebook look is supported by all the browsers. For your information, this new look has been set as the default one for your profile.
How to enable Facebook dark mode on website
To enable Facebook dark mode, follow these steps-
Open Facebook website and log in to your account.
Click the arrow icon visible on the top-right corner.
Click the Display preferences option.
Select On button under Dark mode label.
Find the dark mode on Facebook website.
If you want to learn more about these steps, keep reading the following steps.
At first, you will have to open the official Facebook website and enter your credentials to log in. After signing in to your user account, you will see some icons on the top-right corner. They let you find messages, settings, etc. Here you will get an arrow icon in the very last on the list. Click on it and select the Display preferences option.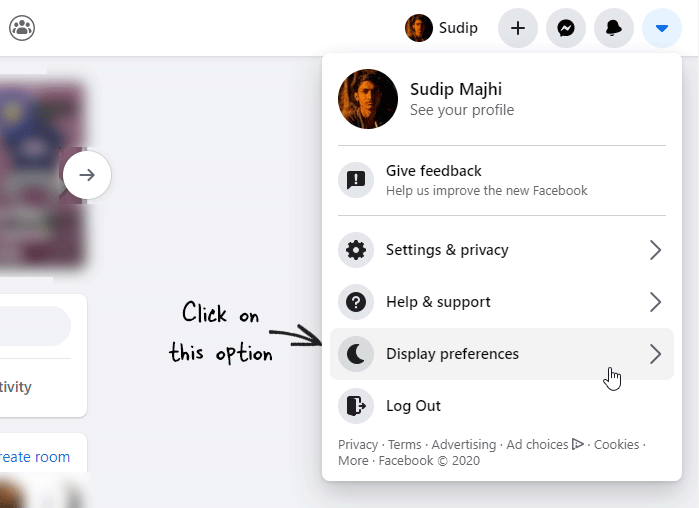 As the option defines, it lets you change the theme or appearance on the Facebook website. After clicking this option, you will find two headings – Dark mode and Compact mode. Select On from the Dark mode heading.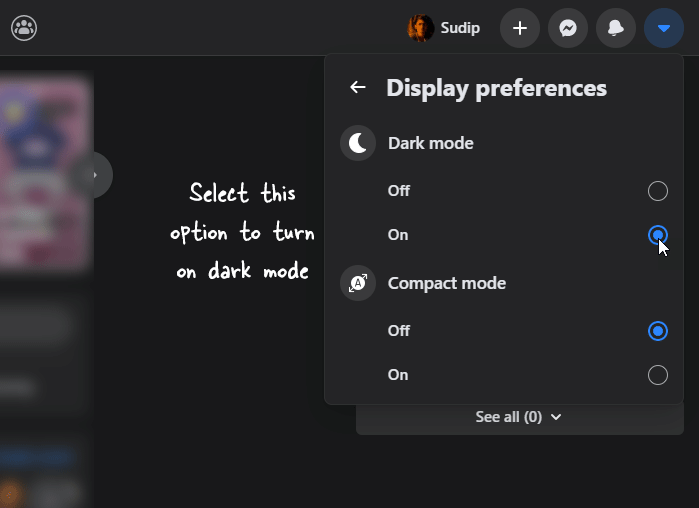 Right-after clicking on this option, Facebook will turn on the dark mode for you. As said before, this setting will be applied to your profile across all the browsers. In other words, if you enabled dark mode on Facebook in Google Chrome, you can find the same in Firefox, Edge, Apple Safari, etc.
In case you want to re-enable the original Light theme, open the same Display preferences option, and select Off from the Dark mode heading.
Read: How to turn on dark mode in all Google apps for Android